Stay In This Incredible Isle Of Skye Home
---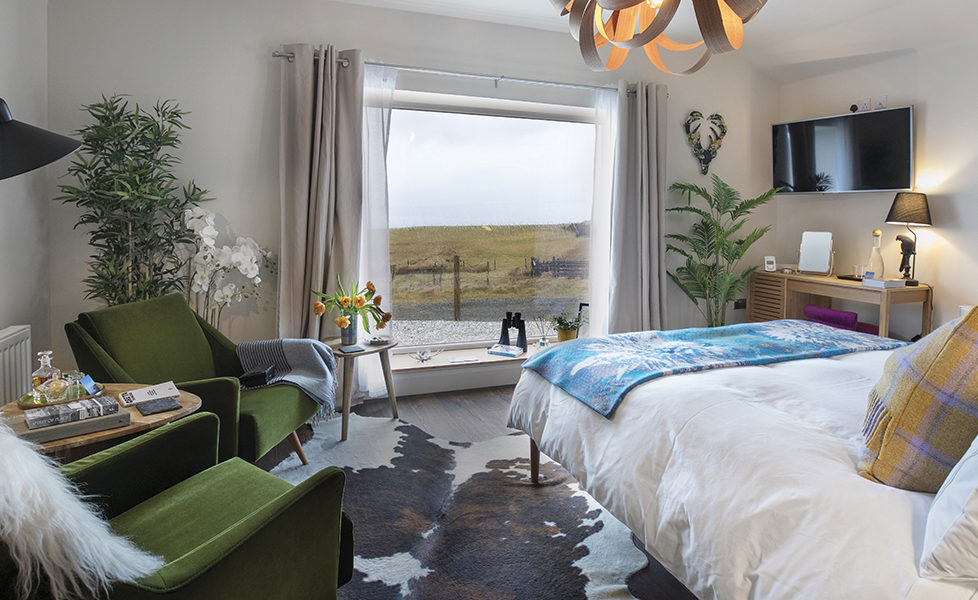 Photo: Eve Conroy
On the beautiful Isle of Skye, Vivienne Roberts and Steve Bragginton own  Am Bothan Dubh and luxury B&B Abhaig.
The couple live with their pet cat Cinta and 12 hens at the traditional croft in the Trotternish Peninsula in the north of the island.
My dad was in the military and we moved a lot, but I'm originally from Skye. When I met my now-partner, Steve, at a friend's party 20 years ago, I owned a wee traditional cottage. We ended up buying the larger cottage that was attached to mine and renovated them both. When we finished the renovations we decided to sell them and try our hand at another renovation project. Plus, we were keen to find somewhere with more outdoor space.
When we saw our current house for the first time, we were struck by the sense of space and the incredible sea views. We bought the house in 2010. It was originally built for sheep crofting and was a typical but-and-ben, which was extended by the previous owners over time.
The house really appealed to us as it had lots of space for us to garden and have BBQs. Then, five years ago, we decided to start a B&B as the property has separate space for both us and guests.
One of the most amazing things about living here is seeing the stars at night, we are very lucky to be able to catch the Aurora Borealis occasionally. Up north the days are so long , in fact it's often midnight before it's dark. So winter is actually the best time to see the Aurora Borealis.
When we moved in the house had a real 60s and 70s vibe, it was really dated, but not in a cool way! In the living room, we removed a wall-to-wall stone fireplace and ripped out the red swirly carpet in order to install the wood-burner. We also decided to strip the old floorboards and paint them white.
Over time, we have removed most of the woodchip paper, which was on every wall and ceiling. We also decided to change all the floor coverings. We installed a new bathroom and new kitchen too. We also decided to convert our old garage into Am Bothan Dubh (our B&B luxury bothy). It took five months to renovate and it was our biggest project to date. It is a slow labour of love – we do what we can and when we can afford to do improvements.
Without realising, I guess we tend go for natural styles that are inspired by our love of the outdoors, the islands and nature. When we travel to new places, it usually gives us ideas. We both love natural tones of blues and greens; we tend to avoid boring neutral colours. We try to use natural fabrics like cottons, wools; we love velvets and linens too. We also collect prints from our travels as memories.
Our favourite pieces – the green velvet chairs in the bothy are absolutely gorgeous! I'm so glad we bought them, they are perfect in the room. Another favourite piece of ours is the little writing desk in the porch. It is a nod to our grandparent's styles and was gifted to us by my mum and dad.
We splashed out on the wallpapers and soft furnishings in the bothy. They are from Mairi Helena in Edinburgh. Our lovely sheepskins are from a local company called Skyeskyns and we love them. They all just add the sense of 'coorie' to our place.
My favourite room is the kitchen. Just like my mum's and granny's kitchen, it's the real heart of the home, everyone is welcome and there is always cake! It is where we entertain and enjoy times with friends, family and guests. We love to cook; it is something we have always enjoyed as a couple. There's constantly something switched on in the kitchen as we make breakfast and suppers for our guests in there. Plus we always have cake on the go! We even hold band practice in the kitchen once a week too – we play in a small covers group called Skye Blue.
We were delighted to find our Scandi kitchen table via a local selling page, we also bought lots of our crockery used for the B&B is from a local vintage shop. In fact, the little antique chair in the guest room upstairs was a bargain from the same place too. I think it's important to make considered buying choices or up-cycle and buy pre-loved. We shouldn't be a slave to throwaway trends.
We love candles, our favourite brands are Neom, Skye Candles and Ishga. We couldn't live without fresh flowers either– we love when our garden is in bloom. We are very lucky and use posies in vases all summer long. It's hard to say if this is our forever home, we are so settled here. That said we might just take on another building project… a cottage right by the water is still a dream we chat about!
For more information on Abhaig Boutique B&B see abhaigskye.co.uk
Words by Nadine Hawkins
Please note restrictions are currently in place around holidays in Scotland. Please contact Abhaig for details on reopening.