5 Off The Beaten Track Scottish Escapes
---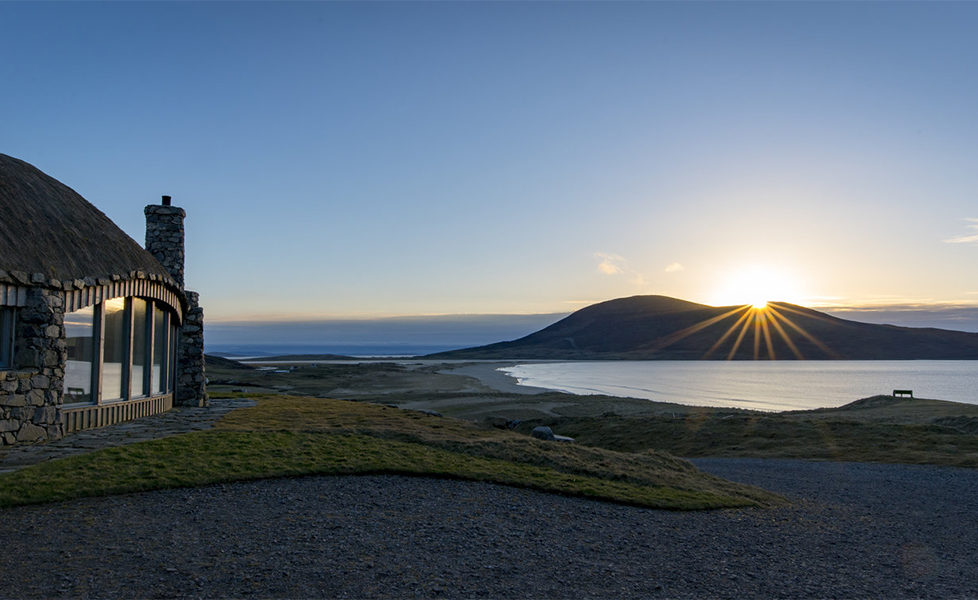 Òran na Mara
You don't have to travel far in Scotland to go off the beaten track.
With over 10,000 miles of coastline, you are never really too far from the sea or a remote area. Get inspiration for your next overnight break with our round up of 5 beautiful off the beaten track Scottish escapes.
Some hotels may be temporarily closed to due to Covid restrictions. Please contact them in advance and check the current guidelines before travelling.
The Broch – Borve Lodge Estate
Inspired by traditional Iron Age dwellings in Scotland, The Broch is a one of a kind place to stay on the Isle of Harris. Located on the Borve Lodge Estate with views of the wooded Borve Valley, two lochs and the Atlantic, this is the ultimate luxury escape away from it all. On the top floor, a four poster bed sits beneath a round skylight which gives you an incredible view of the stars from the comfort of your bed.
Prices from £643.
Corrour Estate
If you want to enjoy one of the most beautiful train journeys in the country, you can travel the West Highland line and arrive at Corrour Station – the highest railway station in the UK – before being collected by Range Rover and brought to Corrour Estate. Accessed by 11 miles of private track, these beautiful cottages feel truly remote. Choose from 8 cottages on the estate including a former Catholic chapel, the cosy renovated school house and the charming Dolls House.
Book a stay on Corrour Estate here. 
Òran na Mara, Scarista
This property is not only off the beaten track on the Isle of Harris, but just a stones throw from one of Scotland's most beautiful beaches – Scarista. Meaning 'song of the sea', Òran na Mara sleeps six in 5 star luxury surroundings, with incredible views of the coastline.
Prices from £2,900 per week.
Tree Howf
Just a few miles from Dunblane, the Tree Howf at Craighead Howfs isn't exactly remote but you'll certainly feel like you've escaped to the countryside. Sitting in an ancient ash tree with 360 degree views of the Ochil hills, this tree house is like nowhere you will have stayed before!
Prices from £175 per night.
Killiehuntly Farmhouse
Located in the Cairngorm National Park, Killiehuntly Farmhouse brings Scandi style to Scotland. Guests are encouraged to treat Killiehuntly as a cosy from home in one of the designer B&B's four beautiful bedrooms.
Book Killiehuntly Farmhouse here.