Meet The Woman Behind Siabann Skincare
---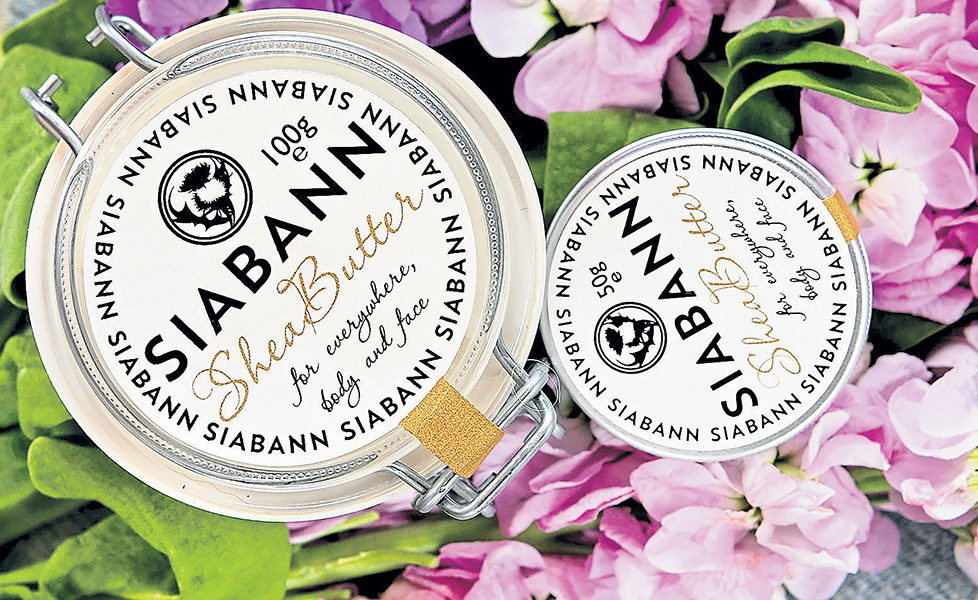 Fiona Ritchie has come a long way since she made soap for her children in her kitchen. Now she owns Siabann – a successful skincare company that sells its products across the country.
It was when she was bathing her toddlers that Fiona Ritchie came up with the idea of setting up her own business. "I realised I was feeding them lovingly – making organic butternut squash and then putting them in a bubble bath full of chemicals," she says. "I wanted something more natural for them that would be kind to their skin."
Fiona, who was raised in Glasgow, started making soap in her kitchen, using her two and three-year-olds as guinea pigs, and soon she had the beginnings of a successful business.
"I always say my products are not tested on animals – they are tested on my children! When they were little, they loved the bath bombs I made and would go off to school with heather flowers in their hair, which were often mistaken for nits!
"As soon as they were tucked up in bed, I'd start working in the kitchen. It was just like cooking – I'd heat up big pots of olive and coconut oil and blend with caustic soda before pouring the mixture into moulds to cure for four weeks. "Soon I'd learned enough to start selling my soap and bath melts at craft fairs."
That was in 2005 and for the next 10 years she traded as the Ochil Soap Company, taking on premises in Alloa and enlisting her mother, grandmother and aunts to help make the soap while her father made moulds, built shelves and did collections and deliveries.
"It was relaxing to sit around the table making things together – as therapeutic as quilting or knitting. We'd stick little thistles on bath bombs and add heather to the soap mixture while we chatted."
When she set up Siabann – named after the Gaelic for soap – four years ago, she began to streamline the manufacturing process. "It wasn't cost-effective to stick on flowers by hand and the dried flowers could look like bugs."
Now living in the shadow of the Ochil Hills, Fiona is inspired by the Scottish countryside and still uses natural ingredients such as heather and lavender.
"I use a lot of safflower oil, which is extracted from thistles. It's a light oil that is readily absorbed by the skin. In the last four years, I've scaled up the business and now have a better idea about costing and profit margins, but I'm essentially doing what I did in my kitchen. All my skincare products are still handmade. It's really simple, just like cooking but now I use bigger pots."
Fiona left Glasgow to train as an occupational therapist in Edinburgh before moving to England to work with spinal injury units and then back to Scotland to work in mental health. "I've always known I wanted to set up a business of my own, but it wasn't until I started making skincare products that I was able to fulfil my ambition."
A talented singer who sang in cathedral choirs as a schoolgirl, she's always been creative and now sings in a jazz band. "My parents wanted me to pursue a career in music but I knew that I had to be the best, and only one in a million singers reach those heights. I wanted a career."
When she became a mother, Fiona left her job in occupational therapy to look after her children. Her marriage ended when the children were aged two and three and she started to look for flexible work that she could do around the children.
"That's when I hit on the idea of making soap from natural products. I wanted the kids to see their mum and for me to have a balance between work and family. Being alone was tough at first, but I found out it wasn't the end of the world to be on my own with my children and that it could be empowering. I realised I could work and build up a business as a single mum."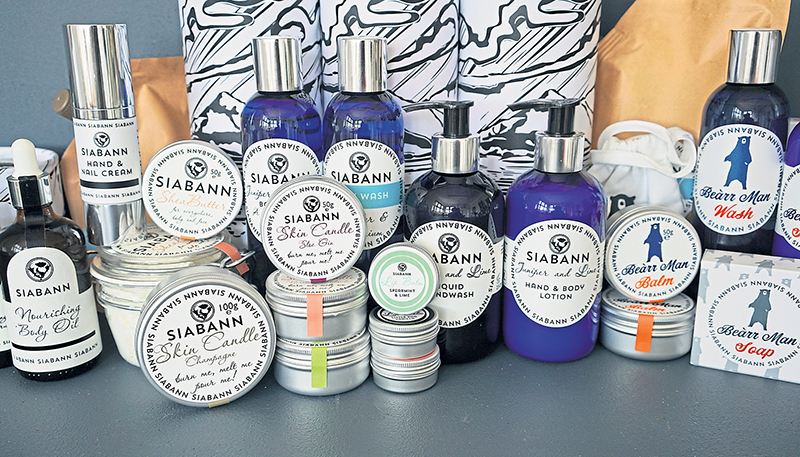 Fiona now supplies liquid soap, hand and body lotion, and shampoo and conditioner to upmarket boutique hotels and shops such as Tom Kitchin's restaurant and inn, The Bonnie Badger in East Lothian, The Old Manse of Blair in the Cairngorms, and Abhaig Boutique B&B on the Isle of Skye.
"Guests at these high-end hotels love the products because they are Scottish and smell and feel wonderfully natural. Siabann products are also sold at 60 gift shows throughout the UK – mostly in Scotland, but their popularity is growing south of the border too."
Siabann skincare products can now be found in places like Loch Leven's Larder in Kinross-shire, and in the National Galleries of Scotland and the Caledonian Canal Centre gift shops, all exquisitely packaged with illustrations by local artist Peter Nelson.
Sales have doubled since last year, allowing Fiona to take on two social media paid interns. But she still does most of the work herself. "I'm inspired by women who juggle work and family life to keep their kids a priority and my heroines are Jo Malone and Body Shop founder Anita Roddick, but I don't like to call myself an entrepreneur – we are business women. "I've had one idea and run with it and it's evolved from working in my kitchen and supplying craft fairs and church sales to a company that sells all over the country. I want to do more of the same and keep building the company.
"I've recently made a men's range, Beàrr, the Gaelic for shave, and have a few more products for different markets up my sleeve. My motivation is to make a success of the business but still love what I'm doing. I work seven days a week and every morning I get up excited about making lovely products, going to trade shows and meeting customers."
When she shows me round her workshop, the air is warm and pungent with oils, soaps, lotions and serums scented with juniper, lime, lavender, rose geranium, cedarwood and bramble berries, and her products have evocative Scottish names such as Glen, Lochside and Seashore.
"Siabann promotes Scotland and its natural beauty. I like to do my bit for the environment and don't use plastic microbeads or palm oil, which is the cause of deforestation, and I sell refills to cut down on waste," she said.
Fiona shows me one of her favourite products – a skin candle made from soy wax, which melts to body temperature. "You burn the candle when you're in the bath and use the melted oil on your skin. It's scented with juniper and lime, so it's gin for the skin. "When I showed this at a craft fair recently an elderly lady said, 'How very Fifty Shades!' You can use it on your feet while watching Coronation Street on your own but it's more fun with someone else!"