Meet The Artisan: Susan McGill
---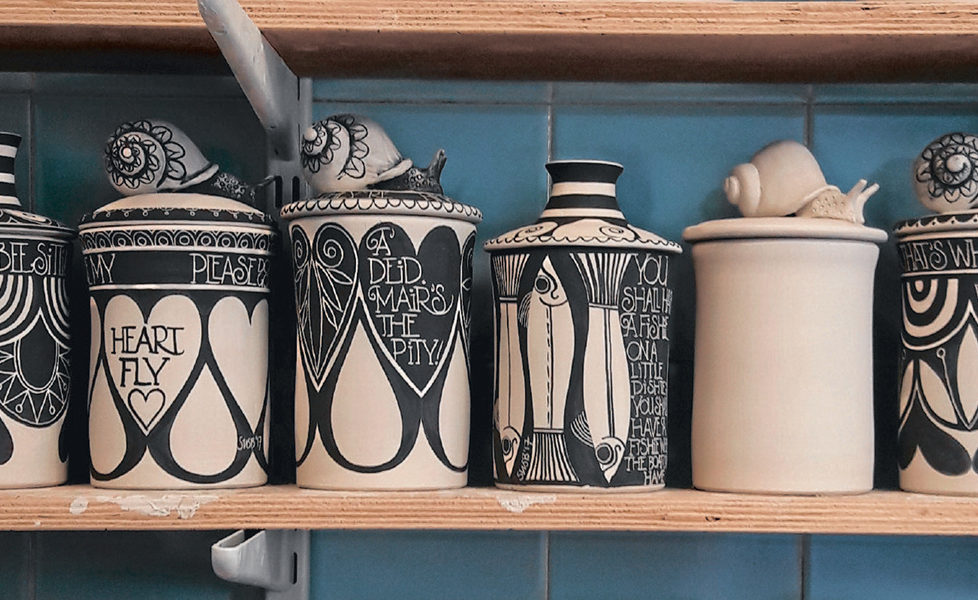 The ceramics and graphics of artist Susan McGill takes traditional Scottish verse and phrases and weaves them into stunning works of art. She talked to Chae Strathie about the influences that helped create her unique style.
There's a tile on the wall of Susan McGill's pottery with some words painted on it. It's not neat and tidy, it's not fancy – just a basic white wall tile with a few lines daubed on in black ink. But it says so much – perhaps everything – about the origins of her work.
"As fair art thou,
my bonie lass,
So deep in luve am I;
And I will luve thee still,
my dear,
Till a' the seas gang dry."
The beautiful words, instantly recognisable to many from Burns' poem A Red, Red Rose, form a thread that runs from Susan's stunning ceramics and graphic designs back through time to her Burns-loving granny and beyond that deep in to the heart of a Scottish lyrical tradition that is ingrained in the psyche of this nation. Perhaps that's why her work is so popular among her many fans. It speaks to something in us all, something from our past. It taps into what it is to be Scottish – a shared memory of Burns, distinctly Scots phrases, time spent with your granny, the sea, romance. It's all there.
This connection with tradition and with the power of words as well as images is something Susan is happy to acknowledge. "I had a granny who stayed in Cluny (near Kirkcaldy) and she was a Burns fanatic and loved poetry," recalls Susan. "Even at the end of her life when there were a lot of things she couldn't remember, if I dropped a verse into the conversation she could remember the rest of the poem.
"Both my grannies were very close to us, though they were very different. One granny used to sing a lot and use a lot of local Scottish phrases, then I had the Burns granny. I think it's really important with what I do now, that connection to my past. I feel that's where my work comes from and it's an important element of my work.
"My dad was always a singer when he'd had a couple of drinks, and he always used to make us have our party pieces ready round the table. It was a very traditional Scottish upbringing and I feel that's something that is missing from life nowadays.
"Because people don't read books as much and everything's online, it makes words more disposable. I feel when I put them on a big piece of ceramic that's going to sit on somebody's table it stays with you."
Of course, her work isn't just about words – her ceramic pieces cover everything from plates, bowls and cups, to candlesticks, wally dugs and busts. Her trademark black and white (with the odd splash of red or blue) designs adorn both her pots and her graphic work that can be seen on trays, tea towels, tiles and art prints in homes across the country.
Susan nods to the influence of her mum in her early creative development. "My mum went to art college and she was a pen and ink drawer so I think that was one of the big influences when I was growing up," she says. "She was always drawing when I was younger. I would see it every day. She did drawings of Burntisland, Kinghorn and Kirkcaldy.
"My lettering forms are probably derived from things that I've seen in her layouts, too. It's really similar. You don't realise it at the time that it's dripping into your subconscious when you're growing up."
After going to Telford College in Edinburgh, followed by Duncan of Jordanstone in Dundee, Susan set up her first pottery studio in a Portakabin in her family's boatyard (they own Briggs Marine) in Burntisland. She's come a long way since then, but it's taken years of hard work and dedication to her art to get to where she is today, working out of a fantastic pottery and design studio attached to her Kirkcaldy home. However. Susan is in no doubt about how lucky she is.
"I'm happy doing what I do just now," she says. "I'm really happy doing a job that I love and meeting the people who buy my work. And if I can continue that, it would be great. It's lovely to think that I could get to 70 or 80 and still be throwing pots. It really is a nice thought."
And it's almost certain that if she's doing that, she'll be doing it in Fife. The area is very close to her heart.
"Fife represents everything that made me come down this road," she says. "Having family and the sea close by, the history, the Wemyss Ware pottery, the heritage. And I love the East Neuk too – I love the light that comes off the sea."
Looking round Susan's studio and pottery as we wrap up our conversation, it's hard not to return to thinking about the written and spoken words that have influenced her so much. "I used to be able to recite poetry easier than I could remember times tables or anything," she concedes.
"I like using words that have really obvious connections – things like the Three Craws and the Selkirk Grace. Most people know the Selkirk Grace, but there's something appealing about seeing it written down in that form. My granny used to have a line for just about every scenario that happened in life – 'We're all Jock Tamson's bairns' and the like. It's a shame phrases like that seem to be dying out because there's a real lyrical quality to them. They go straight to your heart because you know that it's part of being Scottish. They're being left behind, but people know them when they see them and they know they're part of their history, and I think that's why people really feel attached to them."
That attachment people have to the phrases of their childhood and their heritage can be seen in their reaction to Susan's work. "It's amazing – I see people moved to tears sometimes. Because these words are not just my words, these words are other people's and it just catches them out occasionally.
"They'll come in and they'll see 'Till a' the seas gang dry' or 'Here's tae us, wha's like us?' and it's something their grandad said or it's a song their granny sang. I get people coming in and you hear them singing in the shows because they're thinking about their past. It's great!"